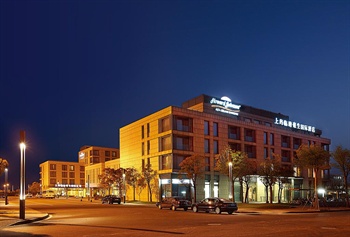 The Howard Johnson Plaza Lingang Shanghai (Lingang Haosheng Guoji Jiudian) is a business hotel situated in the center of the Lingang New City Industrial Zone and is surrounded by large, high-tech foreign and domestic enterprises. The hotel also neighbors the Yangshan Deep-Water Port, Water-Drop Lake, Flower Harbor, Binhai Golf Club and Binhai Forest Park, all of which make for relaxing diversions for the visiting tourist. From the hotel, downtown Shanghai is a 45-minute drive away while Pudong International Airport can be reached in 25 minutes and the Yangshan Deep-Water Port in 10 minutes.
Guests will discover an extensive selection of food and beverage at on-site Chinese and Western restaurants and a lobby bar.
For business guests, multifunctional convention rooms of various size and a business center are ready for use.
For the health and fitness enthusiasts or those simply in need of a good workout, the hotel's gym is a good place to go.